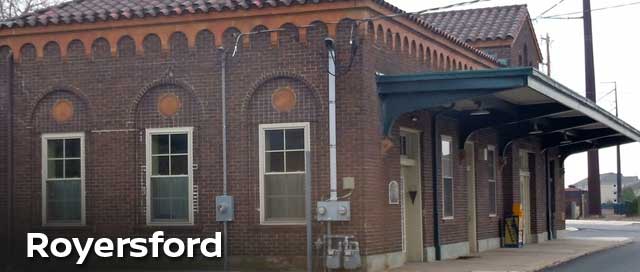 Nissan 422 of Limerick proudly provides sales, service and parts of Nissan automobiles to Royersford drivers. Just a very short drive north along N. Lewis Ave. or if you'd prefer to do highway speed, along Benjamin Franklin Highway (State Hwy 422), Nissan 422 of Limerick is the destination for finding great deals on new Nissan cars, Certified Pre-Owned Nissans, and used cars of many different makers under one roof. There's no need to go searching high and low for any better deal because Royersford Nissan shoppers simply won't find a better combination of price, value, and customer service anywhere else!
New Nissan Inventory Near Royersford PA
Nissan 422 of Limerick is a Royersford neighborhood dealer, with a friendly and knowledgeable sales staff that is genuinely interested in getting to know you and your preferences. We'll listen to what you have to say, address your concerns and answer your questions about any of our Nissan automobiles, all to help you find the right car to suit your driving needs. Whather you're after the value-packed Nissan Sentra, or the stylish Nissan Altima, the sporty Nissan Maxima, the powerful Nissan Murano, or the versatile  Nissan Rogue, we have the experience, selection and great deals to get you the right car at the right price! And when it comes to working out the details, the Nissan 422 of Limerick Auto Financing Team can work with your credit score no matter where you're at to get you favorable lease terms or a low APR rate that won't break your budget. We're happy to meet Royerford residents and get you the best deals on New Nissans in the Montgomery County area!
Used Car Dealer Royersford PA
Because Nissan 422 of Limerick is a part of the Bush Auto Group, we have access to a large number of quality used cars, trucks, SUVs and vans in the southeastern PA region. What does that mean for Royersford used car shoppers? It means you get a HUGE selection of late-model, low-mileage vehicles offered at competitive prices, all with the highly-rated Nissan 422 of Limerick customer service that puts your needs first. Shop our inventory of quality used cars in the Royersford area and see for yourself what we have to offer. If you don't immediately see what you're looking for, just tell us what your desired car is through our CarFinder Service. When we locate a used car match, we'll notify you with all the info and photos so you can make your choice from the comfort of your home or office! Nissan 422 of Limerick also features a great selection of Certified Pre-Owned Nissan vehicles for your choosing when you want warranty coverage, but don't necessarily need a new car. If you're just looking for a great deal on a used car no matter what the nameplate on the grill says, be sure to check out our bargain used car inventory today for some amazing deals on great used cars, all under $10,000! We look forward to meeting you and providing you with a great pre-owned vehicle at a great price!
Royersford PA Nissan Service Center
If you're looking for the right place to service your Nissan or other brand vehicle in the Royersford area, look no further than the Nissan 422 of Limerick Service Center to do the job right. Our Factory Certified Nissan Service Technicians know your vehicle inside and out and can get you fixed up and back on the road quickly and efficiently. Even if you only require a routine scheduled maintenance, our technicians take the special care to ensure that your Nissan is running safely and smoothly so you can get back to doing life in Royersford. Our Nissan Parts & Accessory Professionals are ready to answer your questions an supply you with any genuine Nissan part you need to keep your vehicle in top condition. Let us demonstrate our committment to excellence and shcedule your next Nissan service today!
Directions to Nissan 422 of Limerick from Royersford PA
Hours
Monday

9:00AM - 9:00PM

Tuesday

9:00AM - 9:00PM

Wednesday

9:00AM - 9:00PM

Thursday

9:00AM - 9:00PM

Friday

9:00AM - 9:00PM

Saturday

9:00AM - 6:00PM

Sunday

Closed