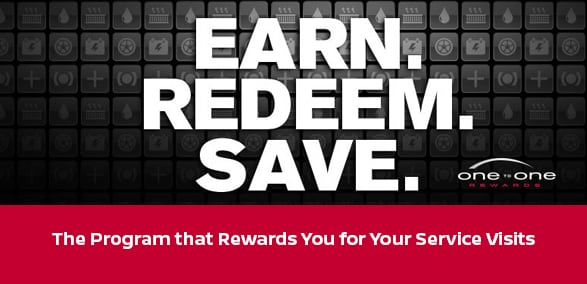 At NISSAN 422 OF LIMERICK we don't pay lip service to service...we actually do something about it.
A perfect example is our great NISSAN ONE-TO-ONE REWARDS PROGRAM that we offer to all of our loyal customers...and we offer it absolutely free.
The program is similar to the programs offered by airlines, hotels and other leading retailers. The program is simple, straightforward and sure to save you money. In fact, every purchase you make will earn you 3% off future spending at our dealership.
As a NISSAN ONE-TO-ONE REWARDS program member you will receive incentive points for every dollar spent on parts and services and up to $100 on a vehicle purchase.
These points are only redeemable at NISSAN 422 OF LIMERICK. It means with every dollar you spend in our service department we will apply 3% of your total bill to your member card in the form of award points.
And speaking of service, our department is absolutely second to none. It is staffed entirely with factory trained technicians whose sole mission is to get you and your NISSAN back on the road as quickly as possible in the least amount of time possible.
Remember, when you purchase or lease a vehicle from NISSAN 422 OF LIMERICK it's not the end of a relationship it's just the beginning.
Nissan Owners. Log into your NISSAN ONE-TO-ONE REWARDS account for further information on these incredible offers!
For more information call Nissan 422 of Limerick at (888) 418-7764 today!